Hi Kim ! How are you feeling today and why?
I feel excited and slow at the same time. Or maybe slow is the wrong word, more 'at ease' than slow. I needed to slow down in order to feel this ease now. After living the last 10 years in cities I moved back to the countryside, for now I'm hosted in the art residency Robida — this feels very exciting!
Where do you put a lot of time and energy in?
At the moment in listening and letting go. The arrival in this new surrounding asks me to listen, observe, un-learn and un-do. The most time I spend tuning in to the rhythm that is already present here, preparing food, washing dishes, reading (not only words), cleaning, sleeping, walking the woods, and reflect on it through writing, drawing, connecting threads and just be with what is.
What is the intention behind your artistic practices?
This question comes up almost everyday! The answers present themselves in different ways. I believe everyone has many things to share and I'm wondering how I can stand in my strength, heart-fully, softly, joyfully, honest, playful, healthy and encouraging. Many of the projects I am involved in intend to be embodied researches, visual or spoken conversations, ways of connecting and reminding each other to what is thriving, playfully alive and abundant.
How does your awareness for and relationship to the environment (human/non–human) influence your artistic practice?
It's the breath of it, without this interrelatedness we would not be, or would die out even faster. This sounds a bit intense. But the metaphor with the breath is maybe accurate. I'm not always conscious of my breath, neither of the many-layered, complex relationships we are interwoven in, with our environment, but I see it as a big part of my artistic practice to remindmyself and others about it. :) sometimes through breathing…
My younger sister and I had the chance to spend many hours in the forest from a young age on. While our mother was working to sustain our family financially our father invited other kids to join us in the forest — these shared forest-days turned into 'Dusse Verusse', a 'forest play group' which are now widespread in Switzerland. The main subject in this way of 'schooling' is to observe, play, listen, communicate through body, signs and words — try and fail. Sometimes I feel I'm still in the forest kindergarden, learning from the alive network we live in, with others — always with others.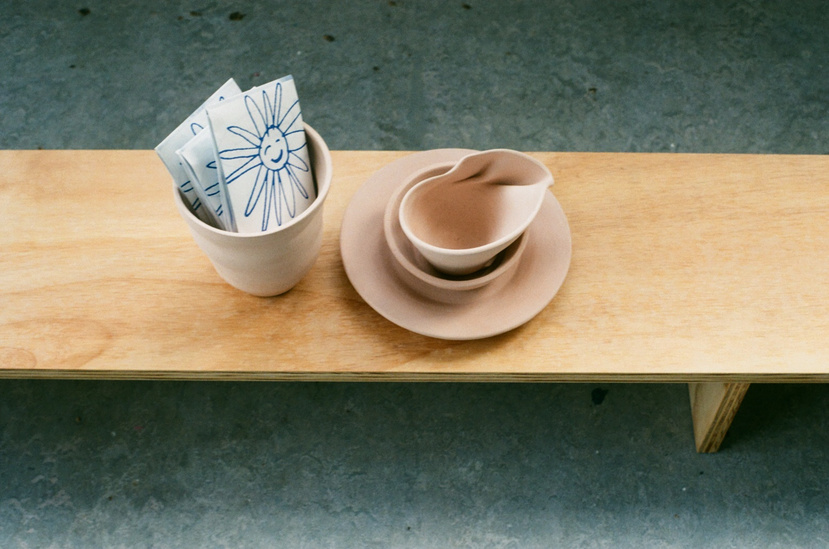 KIKU KIKU aims to rethink the ways of how energy can be exchanged. What other forms of exchange of energy than physical trades have you been exploring within your practice and in what other possible forms are you interested in for the future?
Facilitating space feels very good to me. Everyone carries so much along! Stories, dance-moves, recipes, questions, encouragement which naturally wants to be exchanged. To create situations where this exchange can happen interests me a lot. Something else that fascinates me is finding more ways of giving back to the network we mainly consume from. We are very used to buy products in shops and spend money for them, money for which we worked an amount of hours for. I hope we are able to outgrow this concept. I'm interested in more direct and local ways of closing the cycle in for example 'a garden'. Is our time and care spent in the garden, enough to harvest the tomatoes, or are there other forms of sharing gratitude through rituals that smell like compost… I'm curious to explore.
KIKU means to listen in Japanese and we would like to invite a
playful approach and continuing research to anticipate each other's needs. What do you believe helps you to carefully listen and pay attention in your relationships?
Oh, such a beautiful question. KIKU KIKU could be the new playful codeword in conversations to remember each other to 'really listen'. Listening to me, is an act of letting go myself. Listening turns into a practice of openness to what is being said in words or by other means, movement, temperature, speed, smell… To me it's a state of perceiving through the senses, to what is taking place in the moment. During this practice 'my story' is passive, it serves as a container — and I become what surrounds me.
What are your hopes for your practice/project for the future?
That I'm able to live in a loving, healthy, joyful, honest and encouraging relationship with myself and my surrounding. It would be wonderful to through different means be part of helping us (+more than human) to thrive. *goosebumps*!
You will find the S/OIL Soap made by Kim Lang in our webshop.
Photographs by Kim Lang