Hi Bronwen ! How are you feeling today and why?
I'm feeling calm, it's a rainy summer day so I'm having an easy day inside and the air feels fresh.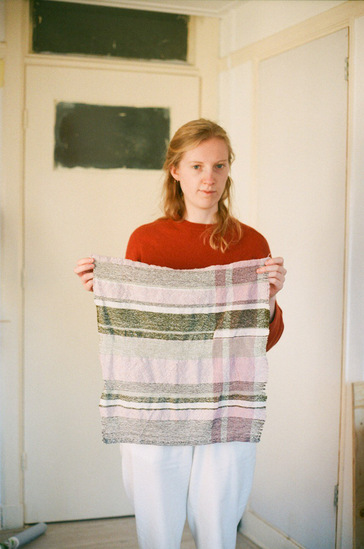 Where do you put a lot of time and energy in?
In slowing down and caring for the things in my surrounding. I feel very attached to the stories behind clothing — in slowly making timeless pieces — and in taking the time to repair worn pieces to continue their life. I love textiles because of the slow nature of hand-working them, which also gives space to talking and sharing stories while darning, crocheting, weaving… And the beautiful way that they soak up and contain stories and traces.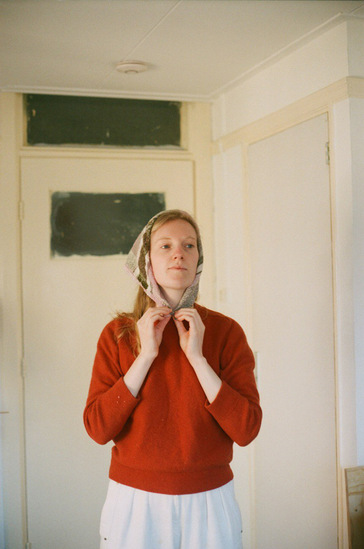 What is the intention behind your project Woven Slow?
Woven Slow grew from my belief in a slow, sustainable way of consuming, and of needing a slow practice to keep me grounded during the past year of feeling unsettled during lockdowns. Weaving was my way of staying in touch with material, and of using dead-stock waste yarns to make long-lasting unique pieces that can be cherished through generations.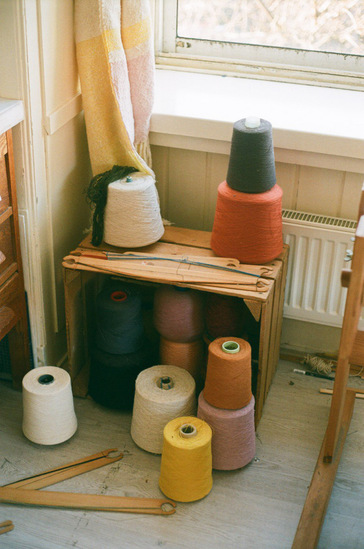 How does your awareness for and relationship to the environment (human/non–human) influence your artistic practice?
In my artistic practice I consider not only living forms but also inactive forms (such as buildings, clothing, objects, and landscapes..) as bodies. I consider how we inhabit these spaces, and similarly how they inhabit us. I wish to care for these bodies around us in order to also learn how to care for ourselves. These ideas are very present in all aspects of my practice; seeping into my writing, textile, and artworks.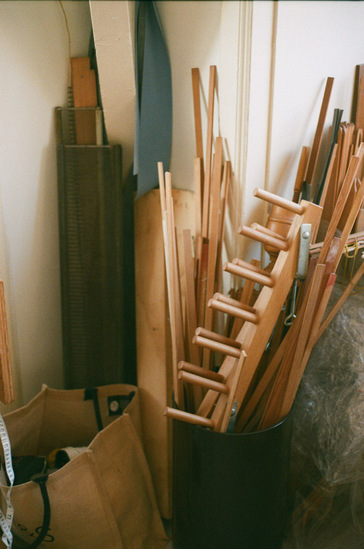 KIKU KIKU aims to rethink the ways of how energy can be exchanged. What other forms of exchange of energy than physical trades have you been exploring within your practice and in what other possible forms are you interested in for the future?
For the past few years I have been darning (repairing) the clothes of friends and family as a gift. It brings me a lot of joy to restore a piece of clothing that has become threadbare or holey and I love to see and hear how much people cherish their clothing and how grateful they are for its repair.
Through the winter lockdown months I missed having a space to meet people so began to use this repair practice as a way to meet new people. I invited people through instagram to bring me their broken garments in exchange for a conversation. The intimacy the garment offered revealed very personal and sweet stories, as well as thoughts around how to care for and repair our bodies, relationships, and communities. I'm now cooking up ways to continue this project; to continue to rethink forms of exchange and to enact care and retain intimacy in a post-covid world.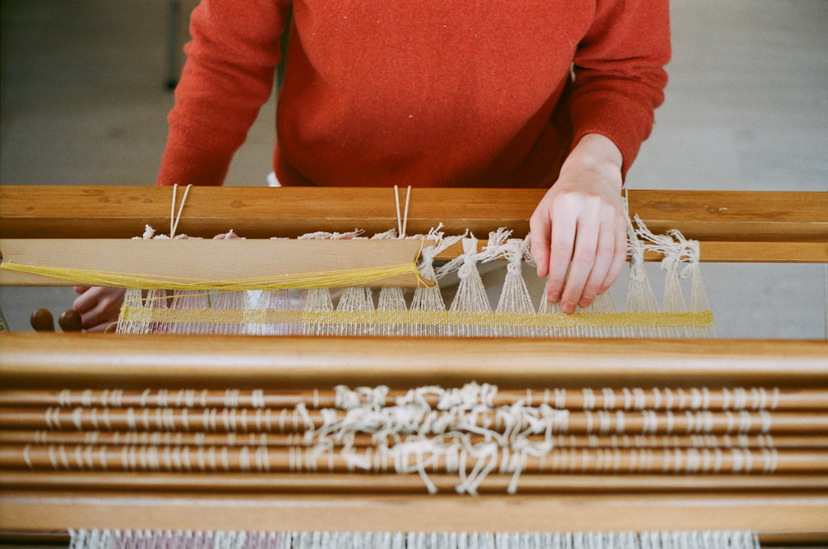 KIKU means to listen in Japanese and we would like to invite a
playful approach and continuing research to anticipate each other's needs. What do you believe helps you to carefully listen and pay attention in your relationships?
I believe relationships and listening work when they're reciprocal: it is keeping a balance of sometimes needing to give a little more and sometimes receiving more. I have learned in relationships to give my time and energy to those that are reciprocal so we can continue to nourish and care for one another.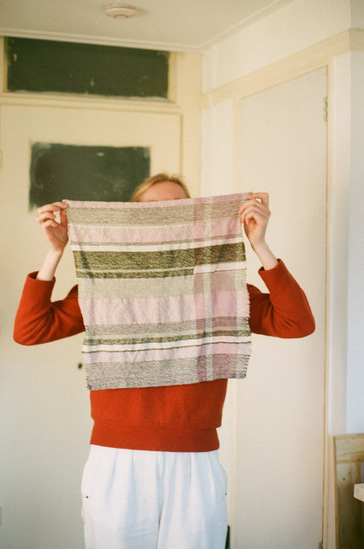 What are your hopes for your practice/project for the future?
I hope to continue to evolve my work through the participation/interaction with others. I feel more satisfied with my work when the result is not so fixed and its meaning can grow with others' bodies and ideas.
I'm excited to explore further forms of exchange, and to find ways to nourish one another through creative practices, I am grateful to be surrounded by a community that makes beautiful things and together imagines different ways of living.
You will find handwoven scarfs and bandanas by Bronwen Jones and her project Woven Slow in our webshop.
Photographs by Kim Lang